Eiji Kusuhara (born 2 January 1947 - died 23 April 2010) was a Japanese actor and voice actor.
He was one of the voice actors who worked on Robotboy (series). He was the voice of the evil genius and main villian Dr Kamikazi in the animated TV series Robotboy. He played the role 57 times in the entire series.
He became famous when he played the sadistic Lieutenant Sato in the television series Tenko (1981-85). He also appeared on stages across the UK and Europe in a variety of beguiling roles. He was one of the first professional Japanese actors active in London in the 1970s and enjoyed something of a monopoly on roles until he starred alongside a fellow countryman, Togo Igawa (Who spoke the voice of Professor Moshimo), in The Man Who Shot Christmas (1984). Eiji spent most of his adult life in Britain. He always seemed relieved to have left his home country but was also perplexed by British culture.
Biography
He was born in Tokyo shortly after the second world war. Eiji was one of four children born to Ryoichi and Yasuko Kusuhara. Their first son died at three days old. Eiji was a weak, sickly baby and his parents waited to see if he would survive before they registered his birth. When Eiji was nine, his sister, Ikue, was part of a teenage suicide pact with her boyfriend.
Eiji was brought up in Hokkaido, where his father had a jewellery shop. He went to Iwamizawa East high school in Hokkaido before going on to study acting at Tama Art University in Tokyo. After graduation, he was a member of the Neo Literature company and then joined the Tokyo Kid Brothers. This company, formed by Yutaka Higashi in 1968, was part of the underground theatre movement and the style of rock music used in its shows was profoundly anti-establishment.
Eiji subsequently joined Stomu Yamashta's Red Buddha Theatre for The Man from the East, a physical theatre show depicting episodes from Japanese life, ancient and modern, real and fantastic, with accompaniment from Yamashta and an ensemble playing electronic and traditional instruments. This popular show originated in Paris, played for a month at the Roundhouse in London, then toured Europe and the US.
On television Eiji appeared in Doctor Who, Inspector Morse and in 17 episodes of the much-praised BBC series Tenko. Set in 1942 in an internment camp on a Japanese-occupied island, Tenko dramatised the experiences of British, Australian and Dutch women captured after the fall of Singapore.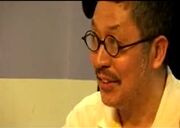 During the 1990s, Eiji was a regular presenter on two Japanese TV programmes, Hello London and Living in England, in which his idiosyncratic, comic personality was given free rein. He had vast experience as a voiceover artist in both Japanese and English in film, TV, commercials and radio. He was the voice of the evil genius Dr Kamikazi in the animated TV series Robotboy and was particularly well known for his wild co-narration in the cult TV classic, Banzai, which invited viewers to place their bets on bizarre challenges, such as how long Mr Shake Hands Man would maintain a handshake with a procession of bemused celebrities. Eiji's enthusiastic commentary highlighted the programme's wackiness.
His film credits included small roles in The Elephant Man, Eyes Wide Shut,Topsy-Turvy and Star Wars: Episode VI: Return of the Jedi as lieutenantt Telsij from the Grey Squadron, as well as many student films in which he appeared without taking a fee.
On 23 April 2010 he died of cancer aged 63.
He is survived by his wife, the designer Kyoko Wainai, whom he married in 1992, and his brother, Yuji.
Eiji Foundation
The EIJI KUSUHARA FOUNDATION PROJECT launched in November 2013. It is a foundation to support new and next-generation theatre artists both in Japan and the UK, using the trail and network of Eiji Kusuhara who was based in England since 1970's, connected the theatre in England and Japan. This foundation was found by his widow Kyoko Wainai.
Community content is available under
CC-BY-SA
unless otherwise noted.