"Metal Monster" is the 7th episode of the series and the 4th(a) of Season 1 of Robotboy.
Synopsis
When a news reporter called Vance Cosgrove finds out about Robotboy he tries to find more about him from other people so that he can become promoted only that a secret government steals Robotboy into their laboratory and the gang must save him.
Plot
Appearances
Robotboy
Tommy
Gus
Lola
Vance Cosgrove
Dr. Kamikazi
Constantine
Jebediah Turner
Hester Turner
Trivia
The first appearance of Vance Cosgrove.
This is the first time Robotboy speaks in an episode Lola's in.
Two minor Star Wars cameos appear inside the secret laboratory: a Wookiee similar to Chewbacca can be seen inside one of the cells and a smaller sized Death Star can be seen behind Vance.
One alien has a resemblance of E.T. The Extra Terrestrial.
This episode reveals just how fast Robotboy's Superactivation is in real time; being about half a second.
Goof: In the Turner Residence hangs a framed picture of Gus, Lola and Tommy holding a deactivated Robotboy. When the picture is first shown, Tommy's laugh with a open mouth, in the next shot when Vance Cosgrove looks closely to the picture, Tommy's mouth is changed and he smiles with a closed mouth. Also his hair is more pointed in the first picture. The drop of Gus's pizza is smaller in the 2nd and Robotboy is more seen.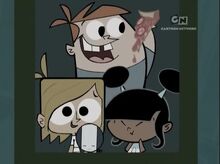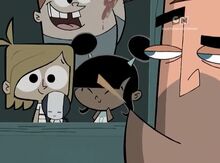 In other languages
| Int. Language | Int. Title | Translation |
| --- | --- | --- |
| Dutch | Het stalen monster | The monster of steel |
| French | Robotboy à la une | Robotboy on the front page |
| German | Metall Monster | Metal Monster |
| Hebrew | מפלצת מתכת (Mifletzet Matehet) | Metal Monster |
| Italian | Un Cronista D'assalto | A Chronicler Assault |
| Spanish | Monstruo metalico | Metal Monster |
| Swedish | Metal Monster | Metal Monster |
Gallery
​Watch the episode
Community content is available under
CC-BY-SA
unless otherwise noted.