Robotboy is a British/French/American animated television series produced by French production company Alphanim, as well as the studios LuxAnimation and Cofinova 1 for France 3 and Cartoon Network Europe.
Synopsis
Robotboy is a butt-kicking battle robot sent to live with Tommy to prevent him from falling into the hands of the evil Dr. Kamikazi. When super-activated, Robotboy is the ultimate kickass fighting robot, but when de-activated, he is rather sweet and curious to learn how to be like a boy.
The show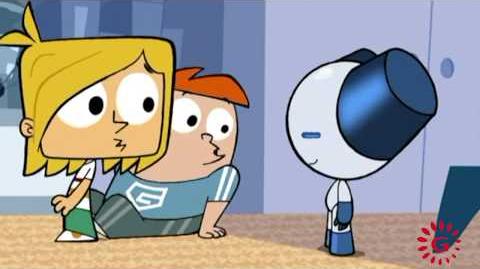 The show itself is about a battling and defensive robot called Robotboy, the latest creation of the world renowned scientist Professor Moshimo. Fearing that Robotboy would get stolen by his arch-enemy Dr. Kamikazi and his main henchman Constantine to be used to take over the world, Professor Moshimo entrusts Robotboy to his biggest fan: a 10-year-old boy named Tommy Turnbull. While being protected by Tommy and his two friends Lola and Gus, Robotboy learns how to behave and act as if he were a real boy but also protect his friends and the city of Bay Area from the dangers of the super-villains out there.
The series premiered on November 1, 2005 on Cartoon Network UK, with each new season set to premiere each year afterwards. With only four seasons produced, it included three episodes with holiday themes such as Halloween, Christmas and Valentine's Day, as well as episodes featuring space, sports and the internet, plus a few other subjects.
Production
Jan Van Rijsselberge has stated on an interview that the idea of Robotboy came from one of his children, whom was often bullied in school at the time and wishes he could have a robot as his bodyguard. He also believed that combining both the action-packed scenes with the comedy would make an entertaining show as possible.
The series was first announced in 2002 when the idea for the series was picked up by Alphanim. Following a co-production deal between Alphanim and Cartoon Network Europe for Spaced Out, the animation company teamed up with Cartoon Network US on the original 26x13, later changed to 52x13 in 2004.
On January 9, 2003 the first character designs, character names, background designs and plot of the series were brought out by Cartoon Network. Only the original design of Robotboy and the original logo can be found online this day As seen on this page's gallery. All the other designs are not online to this day. Originally the series would center on three eight-year old kids, named Eric, Lola, and Chuckles. Eric receives a boxed package from his uncle Moshimo, a Japanese scientist. Inside the box is a prototype toy robot with battle capabilities, that Moshimo shipped to him to hide from his enemies, who want their hands on the technology. Later on in production, the series changed drastically. Eric became Tommy, and Chuckles became Gus. Moshimo was changed into a professor as opposed to an uncle, and instead of a criminal organization, they now faced various villains like Dr. Kamikazi, General Yakitori and Bjorn Bjornson, among others.
In February 2003, Cartoon Network US officially presented the new cartoon on their February initiative. After that the series got some new designs and changes, but it became quiet about it in the media or from CN itself. In 2004, France 3 announced to collaborate with Cartoon Network and Alphanim to produce and air the series.
According to Robert Mittenhal. The show was produced entirely in France, however, the writing came from the US, though with a lot of French writers, the executives and directors of Cartoon Network UK were the driving force behind the series. Also according to him, Charlie Bean tried cramming scripts into the 11-minute mark, causing pacing issues to Alphanim.
On May 9, 2005 the Toon Boom Animation company announced that their software will be used to complete the series. Other animation duties divided among LuxAnimation in Luxemburg, Digital eMation in Korea and Monigotes in Spain. Jean-Pierre Quenet, director of operations at Alphanim at that time, quoted Opus enables us to maintain a high level of quality throughout the entire production process and facilitate the production coordination between all parties involved. The new names, character designs and the final plot of the series were also revealed that day. In August of 2005 it was announced that the series was almost finished and that the premiere of the series would start at November 1, 2005 on Cartoon Network UK. Robotboy later aired in the US in December 28, 2005. Before Cartoon Network aired the series, the France broadcaster MIPCOM first aired Robotboy on October 12, 2005. After season 1, it was broadcasted on other Cartoon Network in other countries in December 2005-February 2006. The last premiere of the series was with the launch of Cartoon Network Pakistan in 2010.
Before the launch, Cartoon Network started a big campaign to promote the series. CN took over all seven pages of advertising, including covers, using a series of comic strips, display ads and competition pages within the magazines Beano and The Dandy and their websites.
In 2006 the first big, live competition for Cartoon Network Europe was launched with Robotboy and the Island of Doom.
Series 2 (Seasons 3 and 4) was produced in late 2006 and 2007. Luxanimation and Cofinova cancelled their collaboration for unknown reasons, and the animation studio changed. Therefore series 2 (Seasons 3 and 4) looked similar, but noticeably different in style from series 1 (Seasons 1 and 2). Charlie Bean stated in a interview that new writers for episodes were added to the series as old ones didn't return. Alphanim and Cartoon Network were very strict and precise with the stories and writing for series 1. According to Bean, the writers and directors gained more freedom to do what they wanted with series 2. The episodes in series 2 therefore are a lot different in style and tone then in series 1, having a considerably "cartoonier" style, more interested in comedy then action. However, some are still in a similar style, such as Rowho?. New characters were also introduced, now possible due to more freedom.
American directors Heath Kenny and Bob Camp were introduced as the new directors for series 2, the latter introduced because Alphanim offered him money in exchange for working on the show. According to Elger, Charlie Bean "wasn't interested" in directing series 2, so he left the director role, but still worked on storyboards. New techniques were also used while others (like 3d designs) were not used again for the remainder of the series. Unlike Series 1, which went smoothly, there were production issues during the making of Series 2, Bob had "ambitious direction" which made Alphanim worry that he would overwork the crew (who unlike Bob, had more of a factory mentality) and they would all quit. Some people also "didn't like the way [Bob] was working". The issues ultimately ended in Bob Camp (not publicly) being fired by Alphanim near the end of production. Series 2 aired at 4 pm every weekday on Cartoon Network UK until its end. Jan later stated he felt series 2 was inconsistent in quality and would criticise elements of it, such as several redesigns of characters, less action elements and Bob Camp not understanding the show.
On March 5, 2008 Cartoon Network created its first viral marketing campaign, featuring Robotboy, and launched the (now defunct) website robotboy.co.uk. The website contained the game Robotboy: Professor Moshimo's Robot Testing Lab, to raise the profile of the cartoon.
Cartoon Network stopped ordering new series after series 2 (seasons 3 and 4) as they felt 4 seasons was enough, and therefore left the production. This may be because Cartoon Network ended many series and co-productions in 2008 like to start a new line of fresh original shows, including Adventure Time, Regular Show and The Amazing World of Gumball, among others.
Jan Van Rijsselberge announced in 2016 that there are no future plans for any new episodes, and that they will never resume production, and therefore the series, has officially been ended.
Details
Genre: Animation, Children 6-12 
Created and designed by: Jan Van Rijsselberge. 
Literary Bible by: Robert Mittenthal & Michael Rubiner. 
Directed by: Charlie Bean, Heath Kenny & Bob Camp. 
Music by: Hans Helewaut.
Producer: Clement Calvet
Executive Producers: Christian Davin, Clement Calvert, Daniel Lennard
Origin Country: France
Official Website: Click Here
Producers
Alphanim, France 3, Cartoon Network Europe 
In association with LuxAnimation and Cofinova 1
With the participation of the Centre National de la Cinématographie  
With the support of Film fund Luxembourg 
Developed with the support of the MEDIA Programme of the European Union
ROBOTBOY™Alphanim. © 2005 Alphanim, France3. All rights reserved.
Other Languages
Robotboy has been available in these dubbed languages: In alphabetical order:
- Arabic
- Azerbaijani
- Bulgarian
- Danish
- Dutch
- English
- France
- German
- Greek
- Hebrew
- Hungarian
- Icelandic
- Italian
- Indonesian
- Japanese
- Korean
- Mandarin
- Norwegian
- Polish
- Portuguese Brazil/Portuguese Portugal
- Romanian
- Russian
- Spanish Latin America/Spanish Spain
- Swedish
- Thai
- Turkish
Other Channels
Cartoon Network (2006)
France 3 (2007)
Jetix (2007-2008)
Cartoon Network (2009)
Cartoon Network (2007-2009)
ZDF (2009-2013)
Cartoon Network (2010-present)
MBC 3 (2009-present), Spacetoon (2016-present)
Minimax (2011)
Network Ten (2012)
KBS1 (2012)
NHK (2013)
Gloob (2014)
Cartoon Network (2014)
LaTeleTuya (TLT) (2017)
il KidsTV/Children's Channel (2007-2008)
In Popular Culture
In the Nintendo DS game; Sonic Chronicles: The Dark Brotherhood, there is a place with some thin towers with white balls on top attached to blue tubes, resembling Robotboy's head. It hasn't been confirmed if this was intentional or not.
The series and in particular the episode Christmas Evil got a chapter in the book ''How the Movies Saved Christmas: 228 Rescues from Clausnappers, Sleigh Crashes, Lost Presents and Holiday Disasters''. This book was released in 2017 and written by William D. Crump.
Trivia
There were brief but unspecified rumors that Robotboy might have had a 5th Season, but it was never confirmed or produced as production ended with Season 4.
In some episodes where videogames are played, music and sound effects from Nintendo's Super Mario Land 2: Six Golden Coins can be heard.
This series was originally planned to be a 26x13 production, and later became, in 2004, a 52x13 production. After seasons 3 and 4 were produced, it was changed to a 104x13 production.
The original design for Robotboy hasn't changed a lot since it's first reveal in 2003. The designs and names for Tommy, Lola, Gus and Professor Moshimo on the other hand were changed. The original design for Robotboy can still be found online (see the gallery at the bottom of this page) but the other designs are completely gone for the time being.
Contrary to belief, the show never had an American dub version of it.
According to Jan Van Rijsselberge, there was never an unaired pilot for the show; they went straight into production on it.
The designer of the logo is Rian Hughes, known for his work as a British graphic designer, illustrator and comics artist.
Series 1 (Season 1 and 2) got in the U.S. a 6.4 rating among boys from ages 6-11 and a 4.5 among kids from 4-11. Both for the Saturday morning block rating. This was concluded after a online poll from Cartoon Network US in assignment of Alphaim.
All the dubbing rights for the series are property of The Turner Broadcasting Company, with the exception of the French dub. This is the reason why Robotboy was aired (and still is airing) on other channels in France besides Cartoon Network France. This is also the reason why Dvd's of the series only were sold with the French language and not any other, with exception of two CN related DVD's with the English, German and Polish dubs.
Series 1 was the number 1 prime-time show in 2005 on Cartoon Network UK.
Robotboy was the number 1 rating program among kids 4 to 14 on Cartoon Network France.
Robotboy got a 8.5 rating and a 43.6% market share on France 3 .
Robotboy was nominated for the cartoon awards Cartoons on the Bay in Italy in 2006 but lost to Camp Lazlo, another Cartoon Network show. The show was also nominated in 2006 for the category best cartoon in 2006 in Tunisia and in 2006 in Annecy, France. Robotboy also lost in these two countries, but received a honorable mention in France.
Gallery
Promo's